CHARLOTTESVILLE, Va. (AP/WAVY) – Governor Terry McAuliffe released the following statement regarding the emergency declaration he authorized Saturday morning following the violent white nationalist protests:
At 11:28 a.m., the Virginia State Police contacted me to request a state of emergency and I immediately authorized the declaration. We have maintained close contact with the Virginia State Police, the Virginia National Guard, the Virginia Department of Emergency Management, and other state and local officials on the ground in Charlottesville, and I agree that the situation in Charlottesville warrants an emergency declaration by me, in order to aid City and County law enforcement in their efforts to restore public safety and order in the City of Charlottesville and the surrounding area. In the days and weeks leading up to this event, my Administration engaged in extensive planning and preparation to ensure that the rally in Charlottesville could be held in a safe and lawful environment. These preparations included the deployment of a large number of state troopers, as well as the Virginia National Guard for support.

It is now clear that public safety cannot be safeguarded without additional powers, and that the mostly out-of-state protesters have come to Virginia to endanger our citizens and property. I am disgusted by the hatred, bigotry and violence these protesters have brought to our state over the past 24 hours. The actions I have taken are intended to assist local government and restore public safety.

My entire team will continue to monitor this situation throughout the day, and take appropriate action as necessary.
President Donald Trump is tweeting about the violence that has erupted amid a white supremacist march in Virginia.
The demonstrations began Friday in Charlottesville with white nationalists marching through town and while carrying lit torches. The demonstrators then clashed with counter-protesters.
FLOTUS also tweeted out:
Senators Tim Kaine and Mark Warner tweeted the following:
Virginia Attorney General Mark Herring has said the following statement on Twitter:
Representatives Scott Taylor and Bobby Scott released these statements on Twitter:
Virginia GOP gubernatorial candidate Ed Gillespie released the following statement:
"Having a right to spew vile hate does not make it right. It is painful to see these ugly events in Charlottesville last night and today. These displays have no place in our Commonwealth, and the mentality on display is rejected by the decent, thoughtful and compassionate fellow Virginians I see every day. I know we all appreciate the law enforcement officials maintaining order and protecting public safety there."
Virginia Democratic gubernatorial candidate Ralph Northam released the following statement:
"The cornerstone of what makes our commonwealth a wonderful place to live is all that we share in common, not the things that set us apart. The community of Charlottesville has been asked twice now in recent months to defend our values of openness, diversity, and inclusion against an ideology of hatred and bigotry — no community should have to bear that burden in 2017."

"White supremacists have descended upon Charlottesville again to evoke a reaction as ugly and violent as their beliefs — just as they did before, I am urging Virginians to deny them the satisfaction."
Virginia GOP Lieutenant Governor candidate Jill Vogel released the following statement:
"I am horrified by the hate being displayed in Charlottesville. It is not the Virginia that I know and love and I condemn this vile display of racism."
ACLU of Virginia Executive Director Claire Guthrie Gastañaga:
"The ACLU of Virginia stands firmly for the right to freedom of expression for everyone. We stand just as firmly in opposition to violence, racism and hatred of any kind. We condemn in the strongest possible terms the willful, malicious, dangerous and unlawful acts that occurred Friday evening in Charlottesville and on the University of Virginia campus. We urge anyone participating in demonstrations or protests of any kind today to do so in a spirit of peaceful, productive discourse. There is no place in a civil society for violent conflict, and we oppose such acts of aggression no matter the source."
The City of Charlottesville tweeted a copy of the emergency declaration regarding the rally at Emancipation Park: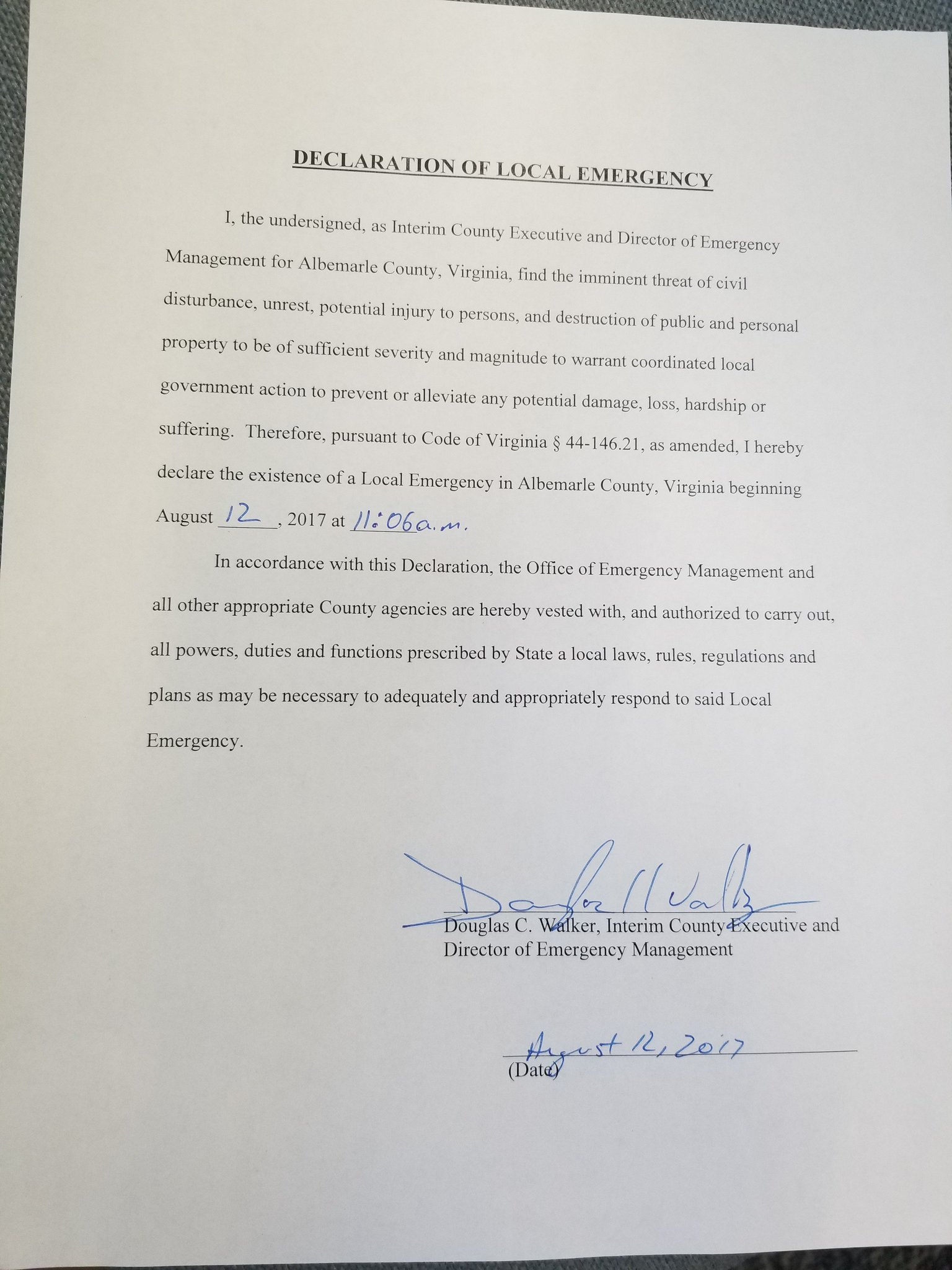 As a result of the city's emergency declaration, The University of Virginia has cancelled all scheduled events and programming.
Never miss another Facebook post from 8News
Find 8News on Twitter, Facebook, and Instagram; send your news tips to iReport8@wric.com.