Easter is right around the corner, which means an influx of everyone's favorite chick-shaped marshmallows are hitting the shelves.
Along with them, there's a new product for the Peeps fanatics out there this year: Peeps-flavored milk.
Nope. We're not kidding!
The limited edition drink comes in three flavors – Marshmallow Milk, Chocolate Marshmallow Milk and Easter Egg Nog – and is already available in the Midwest.
"Peeps marshmallow is an iconic symbol of Easter and springtime, but enjoyment of the product extends well beyond eating the cute treats," Peeps senior brand manager Noelle Porcoro said in a statement. "Through our exciting partnership with dairy leader Prairie Farms, fans will be able to express their 'Peepsonality' in new ways this spring."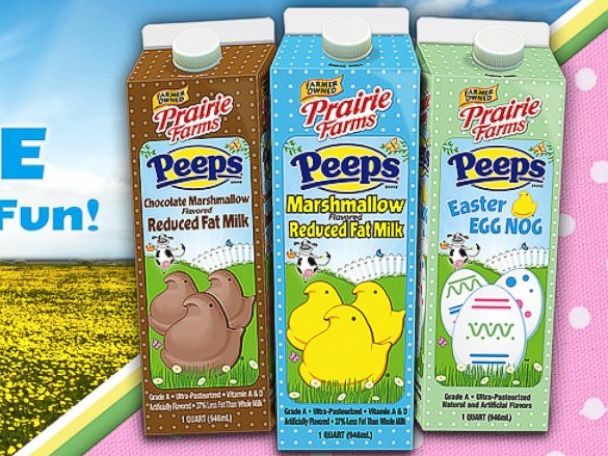 The milk should absolutely be considered a treat — it packs a whopping 37 grams of sugar per one cup serving.
"We view our Prairie Farms Peeps milk as a treat and is still packed with 9 essential nutrients and 8 grams of protein," a Peeps spokeswoman told ABC News. "Although it contains added sugar, 11 grams are found naturally from the lactose in milk."
As a part of the launch, Prairie farms is holding a recipe contest featuring at least one Prairie Farms product and any Peeps marshmallow treat, which the new milk would hit in one. From March 9 through April 5, daily and weekly prizes will be awarded.